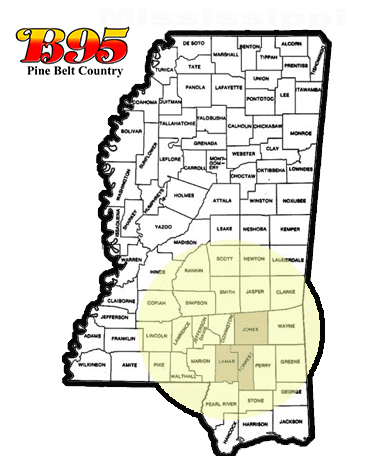 WBBN signed on the air in 1985 playing country music and we've never changed format.
B95 has been the Pine Belt's most listened to radio station for the past 20 years.
A live award wining morning show and great community involvement
contribute to B95's success and loyal following.
We appreciate each and every one of our listeners.
Call letters: WBBN-FM (B-95)
Format: Country (since 1985)
Facility: 95.9 FM MHz FM Stereo
Power: 100,000 watts
Hours of Operation: 24 hours
Market: Laurel-Hattiesburg, MS
(Forrest, Lamar and Jones Counties)
Metro Population = 205,545
50 dBu Population = 490,835
Listening Area: (18 counties) Jones, Forrest, Lamar, Smith, Jasper, Covington, Wayne, Jeff Davis, Greene, Marion, Perry, Stone, Rankin, Simpson, Scott, Lawrence, Clarke, and Newton.
News: Locally produced news and sports throughout the day.
Weather: B95 is regarded as "The Weather Station" due to continuous weather radar reports, forecasts and storm-alerts by our Meteorologist, Jennifer Wojcicki. Get the current weather 24/7. WBBN is also an Alert FM station.
Remotes: The "Rollin' Radio Show" has two black vans with sun visors, flares and a huge Buzzy the Bee on the side and "Buzzy1" a Yukon with a cool wrap. Remote packages include a spot schedule, promos, live broadcasts and talent fees. The B-95 mascot is Buzzy, the Bumble Bee.
Promotions: Hot promotions are always in the works, from the "B-95 Money Song" to the "B-95 $95,000 Money Bags Contest" to "The Contest of the Century" plus daily prizes like the Birthday Bouquet, concert tickets, sporting event tickets and B-95 specialty items.
Morning Show: The live and local morning show, "The B-95 Breakfast Club" is hosted by Grey Manning.
Awards: WBBN was the Country Music Association's "Station of the Year" in 1997, Mississippi's "Station of the Year" in 1997 & 1993, CMA Air Personality Finalists in 1997, and Mississippi's Personalities of the Year in 1997. WBBN News has won "Mississippi's Newsman of the Year" and has been Mississippi's Most Award winning radio station for 9 years. B-95 has won several Regional RTNDA Awards and a National RTNDA Award, "The Edward R. Murrow Award". The production department has won numerous state, regional and national level awards and a second place International level RAP Award (Radio and Production Magazine.)
Features: "The Country Cafe'" - requests, American Country Countdown with Kix Brooks, and Pine Belt Saturday Night.